Auto Skin Diagnostic & Analysis Systems
---

Expert skin diagnostic system to precisely & scientifically inspect skin conditions for reliable counseling & DB
management , and automatically transmit data from hardware to software. Good Features


---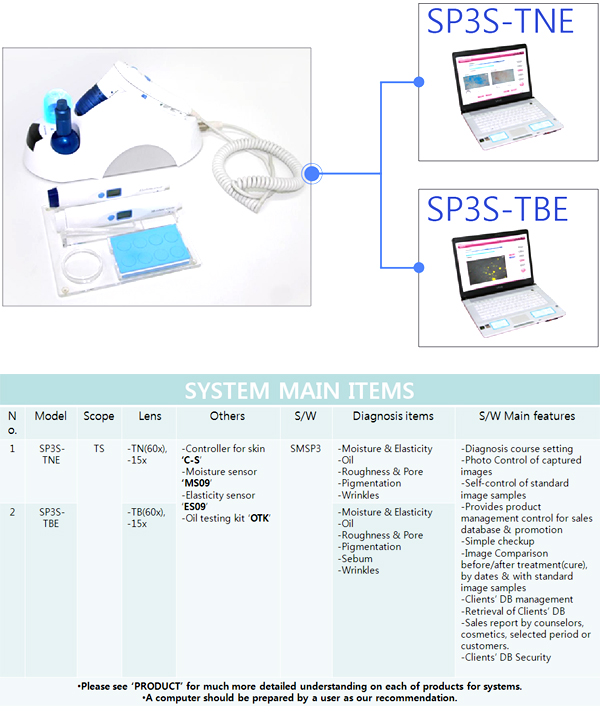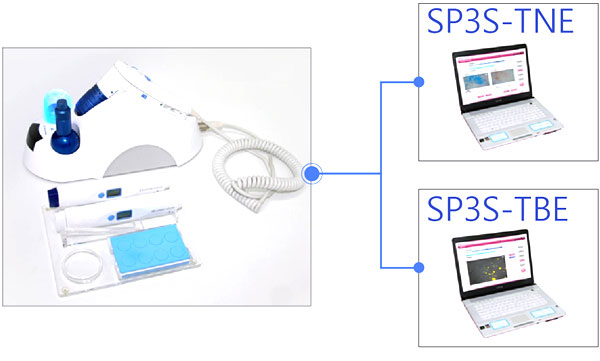 SYSTEM Main Items
No
Model
Scope
Lens
Others
S/W
Diagnosis items
S/W Main features
1
SP3S-TNE
TS
· TN(60x)
· 15x
· Controller for skin 'C-S'
· Moisture sensor 'MS09'
· Oil testing kit 'OTK'
SMSP3
· Moisture &
Elasticity
· Oil
· Roughness & Pore
· Wrinkles
· Pigmentation
· Diagnosis course setting
· Photo Control of captured images
· Self-control of standard image
samples
· Provides product management
control for sales database &
promotion
· Simple check-up
· Image Comparison before/after
treatment(cure), by dates & with
standard image samples
· Clients' DB management
· Retrieval of Clients' DB
· Sales report by counselors,
cosmetics, selected period or
customers.
· Clients' DB Security
2
SP3S-TBE
· TB(60x)
· 15x
· Moisture &
Elasticity
· Oil
· Roughness & Pore
· Wrinkles
· Pigmentation
· Sebum
Good Features


---

1. High-end of Brand Image

· User Frindly Design.
· Comparative Advantage by function differentiation & Auto-Diagnosis.
· Strengthening brand image as prestige service.


2. Clients Database secure management

· Saving diagnosed DB before/after treatment.
· Comparative study of process improved after every treatments or cures.
· Retrieval of DB & it's password access.
· Helping to develop a new cosmetics or care products by collected & saved clients database.


3. Scientific & Vivid skin diagnosis function

· Arousing a client's visual curiosity & Continuing friendliness by auto-diagnosis system.
· Accurately righter diagnosis & much more reliable counseling by objective skin diagnosis.


4. Easy operation, quick diagnosis & well defined counseling

· Automatic measurement by interfacing from hardware to software.
· Much easier & faster diagnosis by integrating 3 functional image modes in one lens.


5. Good sanitation for clients(patients)

· Built-in the sterilizers.


---



General Application

· For marketing & service for high-end consumers
· Cosmetic promotion at high-end of department store's counter or clinics.
· Pharmacy cosmetics promotion for the promotional support of valued drug stores.
· Expert Beauty salons, Clinics, Dermatologists & Hospitals.
· For researching or studying several kinds of skin disease of Dermatological surgeons, Plastic and Reconstructive
Surgeons, Specialists or a laboratory.


---